In America, more than 100 people are killed each year by falling trees and many more are injured. In many cases, falling trees are the result of negligent property maintenance which can lead to lawsuits against the property owner. As a property owner, it is important that you take the right measures to mitigate the effects of flooding on trees.
How Does Flooding Affect Trees?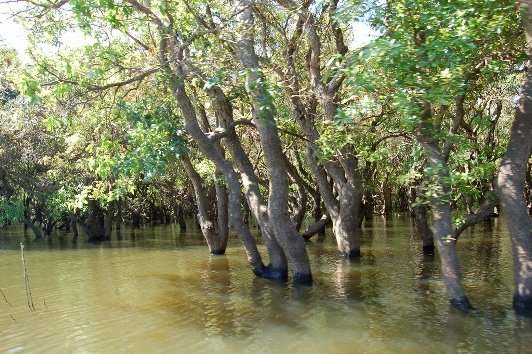 The effects of flooding on trees can be detrimental causing a tree or its branches to fall and possibly damage property or cause injury. Flooding can occur as the result of broken water pipes, rising rivers, or from a sudden downpour of rain. Saturating the soil around tree roots for lengthy periods of time will cut off oxygen to the tree leading the buildup of toxins. The longer the tree is inundated with water, the more the health of the tree will decline. Some root loss is expected to occur, even hours or days after, but if this persists, the tree will eventually die.
The effects of flooding on trees may also include the growth of fungi and bacteria. This can harm trees by killing beneficial fungi and bacteria present in the soil. Trees that survive can suffer long-term consequences, such as drought, stress, and root disease. Trees that survive flood conditions should be inspected for hazards and structure of the root system.
Soil failure and root loss or rot can cause a tree to topple. Grade changes due to erosion can lead to long-term stress. If possible, grade changes should be corrected and soil aeration considered.
Saturated trees are also prone to accumulate insect and parasite infestations as well as contract toxins and diseases that can be transmitted to surrounding trees. Infestations, toxins, and disease, by themselves, are enough to cause a tree to rot, decay, decline, die and eventually fall.
What Factors Can Make Flooding Worse for Trees?
The extent of damage that flooding has on trees highly depends on many attributes, such as:
The time of year the flooding occurs

Water depth

Water and air temperature

The age of the tree (middle-aged trees have the highest tolerance)

Water oxygen content

Water quality

The health of the tree and structure
For example, flooding that occurs during the growing season is much worse than flooding in the dormant season, especially when the air temperature is warm. The higher the temperature, the more oxygen shortage and the faster dehydration will burden the tree.
What Should You Do After a Flood to Reduce Hazards?
While a tree does have some form of defense against flooding, not all will be able to survive such a calamity. The effects of flooding on trees can happen quickly or take months to manifest. If a tree is still standing after 2 to 3 months after a flood, structural stability may be questionable.
While 2019 was a fairly wet year in northeast Georgia, 2020 is expected to be even worse. In fact, it just may be one of the wettest years Georgia has seen in decades. Since they can be hazardous after a flood, trees that survive should be thoroughly inspected for the structure of the root system and other damages that can pose a threat either now or in the future.
E-Z Out Tree Service recommends having the trees on your property checked immediately after flooding, to assess the damaging effects of flooding on trees and prevent other risks from a fallen tree.
Just because a tree shows no signs of harm, doesn't mean it has not been harmed. Many cases will involve minor treatment to get trees back to health. However, a worst-case scenario could require tree removal.
We can help. We are a family-owned tree service company that has been in business for three decades taking care of trees in Lawrenceville, Lilburn, Dacula, Buford, Bethlehem and in all NE Georgia. Our arborists are trained, experienced, certified, friendly, and available 24/7.
Our professionals know the effects of flooding on trees can be hazardous; therefore, we will perform a full evaluation of the situation by assessing the trees surrounding your area. We have all the products and equipment required to prune, change grade, or remove a tree and we guarantee never to leave a mess behind.
To learn more about how the effects of flooding on trees can impact your property, call us at (770) 822-9843 or complete our contact form. We serve the communities of Even if you are just looking for some expert advice, we would love to hear from you.