Fallen Trees and Limbs Can be a Danger
Mother Nature Giveth, and E-Z Out Tree Service Taketh Away!
Some storms leave more than just high volumes of water. Some can cause thousands of dollars of damage while leaving dangerous half-fallen trees and limbs hanging over your home. Timely storm damage tree removal can be a matter of major importance.
E-Z Out Tree Service will come in, assess the situation and take every precautionary step to protect your home and your family. Time can be of the essence with some fallen trees after a storm blows through. We will work quickly and carefully taking all the necessary steps to prevent additional damage to your home and remove any hazardous situations brought on by Mother Nature.
24 Hour Emergency Service!
24 Hour Emergency Service!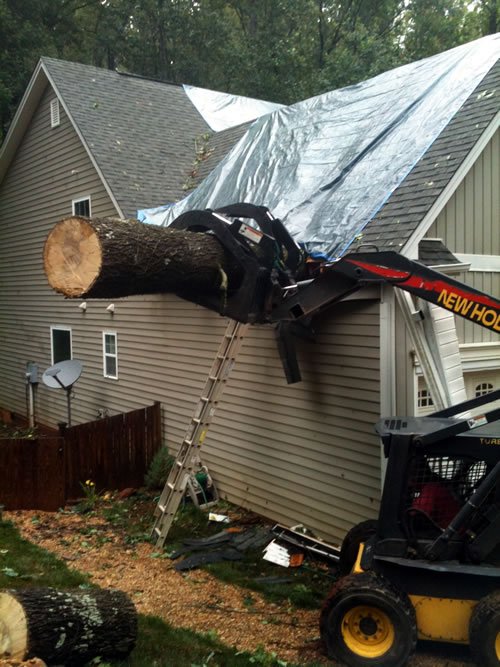 Because Mother Nature Isnt On A Schedule…
E-Z Out Tree Service offers 24-hour tree removal services because we understand that it's never a good time for a tree to fall on anything that you own- your car, your home, your business or your property. The timing is always bad.
For the past 30 years, E-Z Out Tree Service has been an American owned and operated local tree removal company.
We offer residential and commercial tree removal services, so when you need help either protecting your home or your business, make us your first call.
Why Choose E-Z Out?
One thing is for sure, dealing with tree storm damage can be dangerous work. Thats why you want to choose carefully when calling a tree removal company. Here are some of the reasons our customers prefer E-Z Out Tree Service:
Arborist on staff

Emergency 24-hour tree removal services

Licensed & Insured

Over 30 years of experience

Family-owned & operated

Residential & commercial tree removal

We're experts in hard-to-remove trees
We take pride in treating our customers like family. Every job we receive big or small receives the same high-quality assistance we strive to be known for. We've known some of our customers for decades now. Let E-Z Out Tree Service be your first call when you need help with your trees.
For a free quote, give us a call at 770.822.9843
Need Tree Removal?
It's no secret that tree branches can cause a massive amount of damage to your property. How do you know if the branches or whole tree needs to come down? That's why at E-Z Out Tree Service, we have certified arborists on staff.
We can come to your home or business and assess the health of your tree. With more than 30 years of experience, we can tell you where trees pose a specific risk to your property.
It's always recommended that you consider storm damage tree removal services should you find that the trunk of the tree is severely damaged including vertical cracks. Also, if you spot any large dead branches or dead limbs on a particular side of the tree removal is highly recommended. The first step you should take is to call us and get an expert opinion on your situation to decide the best course of action.
We have arborists as well as experienced tree cutters standing by. Call us and let's get started today.
Frequently Asked Questions
There are a few things you might be wondering about how our service works, and how we determine pricing, etc. Listed below are a few questions most customers generally ask when looking for tree services.
Do we provide free estimates?
All our estimates are absolutely free with zero obligation on your part.
Are we licensed and insured?
Here at E-Z Out Tree Service, we carry general liability insurance and worker's compensation. We have a certificate provided directly by our insurance provider.
How do we determine the price of tree removal?
When we provide an estimate on any given job, we base the pricing on four different factors. We determine your final price by examining the location, size, accessibility, and the need for complete removal of all limbs, wood, and debris. We also accept check, cash, and all major credit cards for payment.
Our Service Area
We've work with thousands of home and business owners all around the metro Atlanta area. We're located in Lawrenceville and we work with customers in Buford,Lawrenceville, Braselton, Dacula, Lilburn, and Hamilton Mill. We provide service all over Gwinnett County.
For a free quote, give us a call at 770.822.9843