Tree Services For Braselton
Tree Care That's American Owned & Operated. Let Us Handle All Your Tree Services
Click To Call 770.822.9843
Call Now For a Free Quote!? 770.822.9843
Tree Removal You Can Trust
The Tree Removal Service That?s American Owned & Operated
Tree Removal, Pruning and Storm Cleanup
?It?s better to do more than you promise than promise more than you do!?
At?E-Z Out Tree Services, we are the solution for any tree services you need. We have been an active company in Gwinnett County for the past 30 years and are proud to say that we are a second-generation family-owned business with more than 25,000 tree jobs completed.
?
Our Guarantee
Our staff is invested and passionate about doing every job right. In fact, we don?t expect payment until the job is complete and the customer is 100% satisfied.? If not satisfied we will do everything we can to make it right!
It can be difficult finding the perfect and most trustworthy business to work with, if you book an appointment with?E-Z Out, we promise you a fast response.
?
For a free estimate or information on our services, contact (770)-822-9843 today!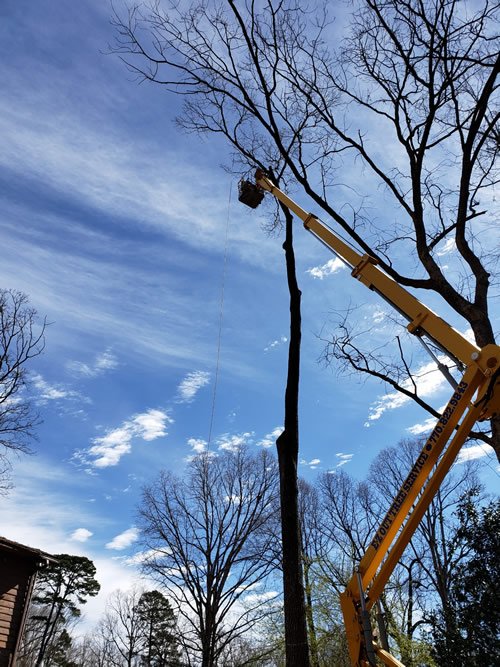 Need Tree Care?
Tree Removal
It?s no secret that tree branches and entire trees can cause a massive amount of damage to your property. But, how do you know if the branches or whole tree needs to come down? That?s why we have certified arborists on staff that can assist you.
The process of cutting down a tree can be a long one but with our experienced and skilled crews of tree cutters and climbers,?it's not an issue. Specializing in ?hard to reach? or ?impossible to take down? trees we can safely rope the branches and logs to the ground. When it is needed our lift can climb up to 90ft allowing us to cut down any tree even those that are 100ft or more. In all cases, we always respect and protect the surrounding landscape. We offer the ability to take down trees after an emergency or take them down before they get the chance to fall.
Don?t wait for an emergency, if your tree is showing signs of deterioration, call us today.
Stump Removal
Removing the stump of a tree takes a special skill. E-Z Out Tree Service has the right equipment to get the done job efficiently and effectively.? And once we?re done, you can use the mulch around the rest of the yard and save money there!
Stump Grinding
Our stump grinder is a 120-horse power turbo diesel, all-terrain machine. It can go the hardest to reach places and get to the stumps that need to be ground the most. Being able to go through a 36-inch gate it will be able to make it to a stump and grind 24 inches deep.
24-hour Tree Services
Trees or branches can come down at any time of day or night, we are here to help handle your tree problems 24 hours a day in Duluth.
Emergency Tree Services
In Georgia, it tends to storm a lot. There?s just no getting around that so when a serve storm alert comes through, tress may and probably will fall. If this happens, we are prepared, call E-Z Out Tree Services and we will have you covered.
Storm Damage
If you are a victim of storm damage, we can remove the tree off your property skillfully and safely without causing further damage. We will contact your insurance company and work with them to make sure that any issues are covered. Then contact a restoration company to help you have the damages fixed.
Other Tree Services
Tree removal services are used to better the conditions of your trees, which can heavily impact your property?s safety and appearance.
Tree Trimming
Trimming your trees is and process to help keep your trees at their best healthy, Crown Lifting, Crown Thinning, and Dead Wooding are just some things that we provide.
Tree Pruning
Keeping up with your trees and bushes can help them grow healthy. Through pruning, your plants can reach optimum growth potential.
Under Brushing Clearing
If you have notice shrubs, bushes, or small trees growing underneath your trees then we can clear them for you. Those smaller shrubs and bushes are annoying making your trees look unkempt and causing rooting issues around your lawn or beds.
Why Choose E-Z Out?
One thing is for sure, removing dead tree branches or entire trees is dangerous work. That?s why you want to choose carefully when calling a tree removal company. Here are some of the reasons we thing we?re a great call:
Arborist on staff

Emergency 24-hour tree removal services

Licensed & Insured

Over 30 years of experience

Family owned & operated

Residential & commercial tree removal

Experts in hard to remove trees
We take pride in treating our customers like family. Every job we receive big or small receives the same high-quality assistance we strive to be known for. We?ve known some of our customers for decades now. Let EZ Out Tree Removal be your first call when you need help with your trees.
For a free quote, give us a call.? 770.822.9843
24 Hour Emergency Service!
24 Hour Emergency Service!
Safety is Our Priority!?
Cutting down trees is always risky. That?s why when you call to have a tree removed, we send out an expert team of climbers and cutters to safely lower removed limbs to the ground to reduce mess and improve safety. Protecting the surrounding environment is always one of our top priorities. All removed limbs and wood are chipped and hauled off site. Any removed debris is taken to be completely recycled to make sure nothing is wasted.
Our crews take great pride in their job and our cleanup services has been reviewed as ?immaculate? by our many satisfied customers. With our experience, we have acquired an excellent reputation and strive to be the best company in our field.
Frequently Asked Questions
There are a few things you might be wondering about how our service works, and how we determine pricing etc. Listed below are a few questions most customers generally ask when looking for tree services.
Do we provide free estimates?
All our estimates are absolutely free with zero obligation on your part.
Are we Licensed and insured?
Here at EZ Out Tree Service, we carry general liability insurance and worker's compensation. We have a certificate provided directly by our insurance provider.
How do we determine the price for tree removal?
When we provide an estimate on any given job, we base the pricing on four different factors. We determine your final price by examining the location, size, accessibility, and the need for complete removal of all limbs, wood, and debris. We also accept check, cash, and all major credit cards for payment.
Our Service Area
Across the decades, we've worked with thousands of home and business owners all around the metro Atlanta area. We're located in Lawrenceville, but we've worked with customers all around Berkeley Lake,?Buford,?Lawrenceville, Braselton, Dacula, Grayson, Hoschton, Hamilton Mill, Lawrenceville, Lilburn, Loganville, Norcross, Peachtree Corners, Snellville,?Statham, Sugar Hill, Suwanee,?Winder. We provide service all over Gwinnett and Hall counties. Call us for a free consultation today.?
For a free quote, give us a call.? 770.822.9843
About Braselton Georgia
E-Z Out Tree Service has worked with home and business owners in and around Braselton for over 30 years now. We appreciate the history and culture of Braselton. Not only have we been members of several different professional tree service organizations, but we also do what we can to help out in the community.
Braselton Georgia is located in Gwinnett, Hall, and Jackson Counties. Named after the poor dirt farmer Harrison Braselton, who married the daughter of a rich plantation owner by the name of Susan Hosch. Shortly after he purchased 786 acres of land where he built his home and named the area Braselton. It wasn't until 1916 that the Georgia General Assembly incorporated Braselton as a town of Georgia.
Call E-Z Out Tree Services whenever you need help with any tree services.
Click here for more information on Tree Removal in Braselton.