"We Always Strive to Provide Service Above and Beyond What We Promise."
*All Major Credit Cards Accepted. Visa, Mastercard, Amex, Discover and others!
EZ-In, EZ-Out! Our Tree Spider Lift Can Get Through a 4′ Gate!
We Take Down the Most Difficult Tree!
E-Z Out Tree Service not only has the right equipment to do the right job for all of your tree service needs. We have specialized equipment that can get in and out with minimal intrusion into your yard.
We provide quality tree service in all cities in Gwinnett County in Georgia and the surrounding areas. Some of the communities we serve include Lawrenceville, Lilburn, and Dacula Georgia.
We have a 90-foot Spider Lift that can get through a 4-foot gate without any difficulty – without having to take down your fence and replace it. We are tree experts who get in, remove your tree, and get out – with no difficulty and no piecing apart your yard. Your tree will come down quickly, and we'll leave as little a footprint behind as is possible!
The tree removal Lift expands once it's inside a yard with 4 large feet that keep it safe and secure and allow us to get into the tightest of spaces – even up next to your home so that when we take a tree down, it's as safe as possible because your safety and the safety of your home is our primary concern.
The spider lift is the latest tree service technology and can make even the most difficult tree job quick, easy, and painless.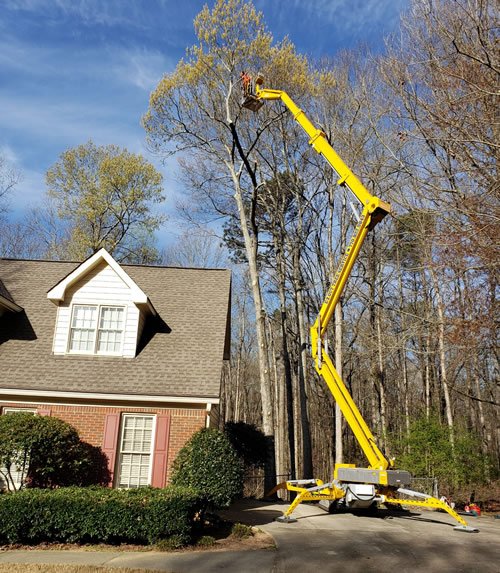 Our Spider Lift Is All-Terrain!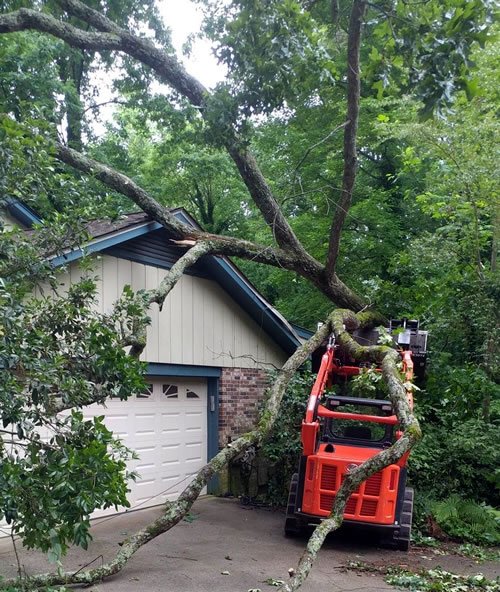 Top Notch Tree Service Where It Counts Most
Visitors to the surrounding areas of Atlanta and Gwinnett particularly often refer to our city as a "city of trees". While that's wonderful to live and work around, being surrounded by trees can be a hazard to your home or office during storms. Few things can do more damage than an 800lb tree limb crashing through your home.
That's where our tree removal experts at E-Z Out Tree Service can help. For three decades, we've been helping people protect their property by removing tree limbs or entire trees before the worst happens.
Tree Service 24/7 Year Round!
Fast, Honest, & Reliable Tree Service in Georgia.
Licensed & Insured
Arborist Services You Can Afford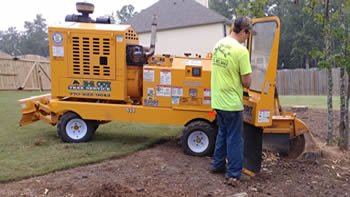 Stump Grinding GA
Stump grinding is an excellent way to get rid of a tree once it's out of the ground. We have the right equipment that can handle any stump. We'll grind your tree which will give you mulch for the rest of your yard. Learn More
Underbrush Clearing GA
Need a clear lot? E-Z Out Tree Service can help. Let us come in and give you an area in your yard free from debris that you need. Whether you want more usable space or just want the lot clear, we're standing by ready to help. Learn More
"I called for an estimate and he came out that day. Rate was great and the tree was gone on that same day. From calling for estimate to the tree removal was about 6 hours. Fast and friendly. Did a great clean up as well."
Ronald Yaddow
"I have had trees removed by E-Z Out Tree Services before and I was so satisfied I had them out again to remove 2 trees. One was a huge maple very close to my house; the other was a half dead oak close to my back deck."
Susan Huff
"My experience with EZ Out Tree Service was fabulous. I received several quotes from various tree services and the EZ Out quote was the lowest. I had ten trees removed. The crew arrived precisely on time and the job was completed in the exact time frame given to me during the initial quote."
Patricia Steed
"I've used EZ Out tree service for over twenty years. Can always count on these guys to do a great job. Safety is always their top priority."
Frank Davis
Our Guarantee
We stand behind our work
E-Z Out Tree Service does not expect payment until the job is complete and the customer is 100% satisfied. If not satisfied, we will do everything we can to make it right!
Our Quality
We have earned an excellent reputation and fully stand behind our work — 100%. With our years of experience, friendly attitude, superb references, commitment, you can be confident that we will do an excellent tree service job for you.
Arborists Trusted by Georgia Residents
Finding an arborist you can trust may be a difficult task particularly when there are so many tree service companies out there who say they know what they're doing. It can be hard to know just who to trust your home with.
E-Z Out Tree Service is truly top notch! We work carefully around your property to ensure the safe and professional service for your trees that you expect!
We've been serving the Atlanta and Gwinnett County areas for more than three decades with excellent pricing that makes your tree service project affordable. When you call us, you're dealing with a team of tree experts that handles the hard tree service jobs. We've been working together for years with excellent safety.
For a free quote, give us a call. 770.822.9843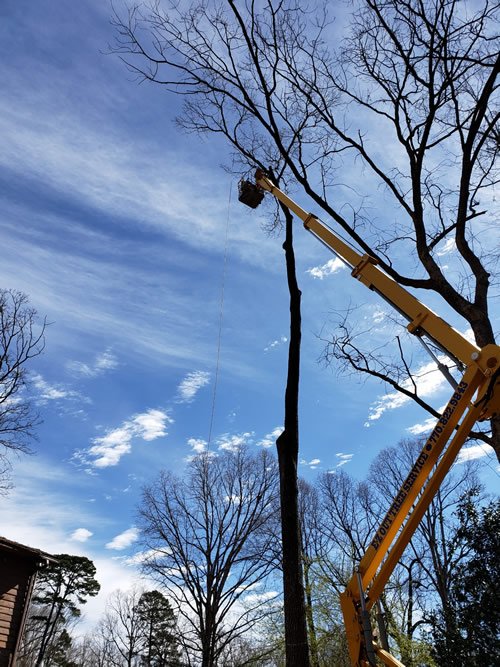 No Tree Removal Job Too Difficult!
Have a tree that causes you worries? A tree that other tree service companies won't remove because it's rotted out, or over your house, or over your neighbor's house?
With E-Z Out Tree Service's team of tree specialists, we can deal with even the most difficult tree or stump removal. We have special equipment and cranes that can fit through a 4′ wide gate with minimal impact in your backyard and can reach way up to the top of a tree where we can remove the tree quite safely. We've been removing trees like this in the Lawrenceville, Gwinnett, Atlanta, and Athens areas for decades. We have tree climbers who have also been with us for many years, experienced men who know how to get the job done right.
We're family owned and operated – we're not a business where the owner sits in an office and manages people from there – our owner is out on the job working with his guys with every job, ensuring that every job is done right.
For a free quote, give us a call at 770.822.9843
Experienced Tree Pruning
Trees that are not cared for and pruned properly can become a hazard to your home and property. A single tree branch falling can cause thousands of dollars in damages. So why not reduce or avoid that chance entirely?
Here at E-Z Out Tree Service, we have employees who are trained to manage and care for trees the proper way using equipment allowing them to tend to any size tree. Regular pruning not only protects you from the chance of damages but also keeps your tree happy and healthy. Removing dying or insect-infested branches prevents bugs and other organisms from harming branches and the rest of the tree.
Customer relationship is our primary focus which is why we offer free quotes on all of our services. If you're looking for the tree care company that does it all at an affordable rate then we are the company for you!
For a free quote, give us a call at 770.822.9843
Tree Service Companies & Homeowner's Insurance
We Deal With Your Insurance Company Directly
So many of our customers have trouble with their insurance companies when a tree falls. They wind up being the middlemen in a situation where they're trying to get an insurance company to pay for a fallen tree that has or could damage property.
Instead of you dealing directly with your insurance company– we deal with them for you, since we know what they will and will not pay for the removal of a tree. Most tree service companies won't do that. Rest assured, dealing with insurance companies is something we've had a great deal of experience with. We remove the tree, deal with them, and all you have to do is watch your fallen tree or dangerous tree get removed without the headache.